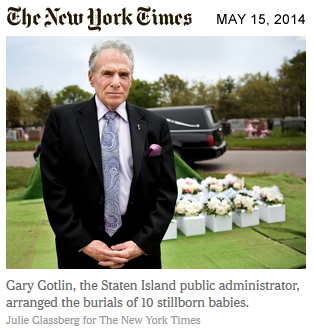 Today I was reading the Sunday New York Times and came upon a story about Gary Gotlin, the NY Richmond County Public Administrator and Commissioner for Staten Island—the man responsible for handling the county's residents' estates who die without a will and/or without living relatives to claim their body for private burial.
Since 1999 he is also the man who has made sure no stillborn baby in his district is buried in a mass grave in the potter's field.
The article includes a picture of Gotlin on a day he was burying 10 abandoned stillborn babies picked up from local hospitals. In the picture he is standing near a line of little white caskets with flowers on top – each with a nameplate—because he buries no one without a name, even if he has to make one up. (I have provided the link to the NYT's story at the end of this post so you can read some good news in the middle of our current global chaos.)
My personal experience of delivering a stillborn
Decades ago I delivered a stillborn baby after 16 hours of labor—and was given a minute to touch the baby before a nurse quickly bundled him up and whisked him from my hospital room.
Maybe the nurse felt she was sparing me. Or maybe she was sparing herself after having watched me struggle for hours. Who knows? In any case I doubt she was going against protocol.
My husband and I had been told six months into the pregnancy that there was a problem and if the baby made it to term, its short life would amount to a series of surgeries—a learning experience for the teaching hospital's medical students—but a heartbreak experience for us.
It was a very sad time, but I made peace with not putting an innocent infant through such physical and emotional angst. However, I never made peace with the fact that no one asked us what we wanted to do with Alexander's body.
What was I thinking?
For many years I wondered why I hadn't asked hospital personnel where they had taken Alexander. I am not shy, nor is my husband. Why didn't we insist he be buried?
With time I came to understand that a person in the middle of such an experience is too exhausted and numb to think clearly. Therefore, the responsibility lies with the hospital social workers to approach the parent(s) of a stillborn child and discuss their options.
I assume Alexander's body became "medical waste"—a term Gary Gotlin refuses to accept. I also assume hospital policy has changed since our experience—unless a deceased infant is abandoned—in which case Gotlin sets a good example for all county administrators in the United States.
Do you have an extra $20 in your bank account? In the Times article Gotlin says his agency continually struggles to find people who are willing to support his efforts. Instead of making your next donation to a big top-heavy charity, why not honor Gotlin's efforts: support his decency by supporting his agency. His address is in his email to me below. And if you want to take it a step further, find out what happens in your county to the abandoned deceased.
The New York Times article:
http://www.nytimes.com/2014/05/18/nyregion/providing-for-the-dead.html?ref=todayspaper
Post-Script: I emailed Gotlin's agency and surprisingly he responded:
May 19, 2004 at 1:02pm

Vicki,

Thank you so much for contacting me. I know the history of the treatment of stillborns as medical waste, and it still haunts me. I am doing my part to make sure they are buried with dignity.

Your offer to assist in asking for donations to provide a decent burial for the unclaimed and stillborn is so appreciated, because we are in dire financial need. Whatever you can do to assist in this regard will allow us to more efficiently bury those who normally end up in a mass grave in our potter's field.

Thank you so, so much.

Gary D. Gotlin
Public Administrator, Richmond County
You can mail your donation to:
Richmond County Public Administration
Gary Gotlin Burial Fund
130 Stuyvesant Place, Suite 40
Staten Island, New York 10301
Telephone: 718.876.7288