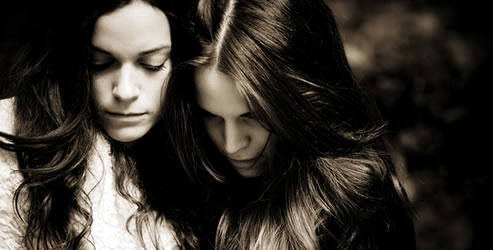 (Excerpt from book due to be published in late 2016)
Here are some suggested "Do's" and "Don'ts" for speaking to, and being around, the bereaved family.  Don't be overwhelmed by the length of the list and don't let what you read paralyze you to the point of being speechless. My goal is arm you with a bit of knowledge so you feel more comfortable.
Hopefully you will accept that
words can't comfort the bereaved, but your presence can;
the less said, the better; and
saying something wrong is better than saying nothing at all.
List of comments that will be appreciated.
"I am so sorry for your loss." (This can precede and follow most of the following.)
"I wish I had the right words, but I don't. Just know that I care."
"I don't know what to say. I wish I had the right words to comfort you."
"You and your loved ones (family) are in my thoughts and prayers.
"Your (parent, sibling, child) was always so nice to me. One of my favorite memories is …"
"She/he will be missed by so many people."
"I can't imagine what you're going through."
"I can't imagine how tough this must be for you."
"We all need help at times. I will call next week to find out how I can help you."
"You can count on me in the coming months."
"I'm your friend—and I'm here for you."
Follow any of the above with "I care about you." You matter to me," or  "I love you" when it is appropriate.
A list of comments best left unsaid
"I know how you feel. The same thing happened to me (or someone I know)."
"It's for the best." or "It is a blessing in disguise.'
"It was their time."
"There is a reason for everything."
"Focus on your blessings."
"You are lucky to have other children."
"The Lord never gives us something we can't handle."
"If it had to happen, it is best it happened when you are young. You can start over."
"You should feel good about having done everything you could."
"You are lucky to have had them for as long as they did."
"If you think your situation is bad… you need to hear about…"
"It could be worse."
"Time heals all wounds."
"These things happen."
"Life goes on."
"They brought this on themselves… if only they hadn't _____."
"Now you're going to have to step up and be the head of the household." (to a child)
Additional DO's and DON'Ts for the service and months following
DO show up and stumble for words rather than offer a cliché.
DO remember the loss is about them and what they need, not what you think they need.
DO listen to the bereaved retell their story until the death becomes a reality.
DO listen to the bereaved to understand more about their grief and loss.
DO continue to visit even if the bereaved doesn't want to talk. Telling a person they don't have to talk often causes the person to start talking.
DO offer humor occasionally.
DO think of what you can do that will relieve the bereaved's stress. Offer practical help such as providing meals, cleaning house and yard work, cleaning gutters, installing or removing window screens, shoveling snow, grocery shopping, dry clean drop-off/pick-up; car service/washing, and taking garbage to/from curb for a few months.
DO volunteer to help with the government, insurance and personal paperwork.
DO offer to help with young children: car pool, pack lunches, ask the children to stay overnight, take them to a movie, provide them with a steady flow of art supplies.
DO search out community resources for grief support groups.
DO risk making a mistake. If obvious, apologize and try again.
DO give the person a hug if you know them well.
DON'T assume you know how another feels even if you have experienced a similar loss yourself, or you have been around someone else who has. Every family is different, every relationship is different, and every family culture is different, even within the same ethnic culture. Two men can lose their wives and each will have a totally different experience. Parents may bury a child but their circumstance will not be the same as another family's. (While I can't provide you with a detailed cheat sheet on how to approach someone who has lost a parent, life partner, a sibling or child, I will provide you with general guidelines later in the book.)
DON'T cry to the point the bereaved needs to comfort you. The rule is you can cry, but not as much as the person directly involved in the loss.
DON'T urge the bereaved to stop crying. Instead let them cry—and laugh.
DON'T expect the newly bereaved to know how they are feeling or how they are doing, so don't ask.
DON'T expect them to be articulate immediately after, or in the month or so following the death.
DON'T offer advice.
DON'T put a timeline on how long you think a person should grieve. There is no right/wrong length or way to grieve.
DON'T talk more than you listen. The bereaved need to repeat their story for months to come, and they need someone to receive it.
DON'T encourage the griever to look at the "bright side" by telling them they can have more children or marry again. Right now they can't imagine life after their loss.
DON'T share your experience of loss, unless they specifically ask. Remember, you are not there for them to listen to you.
DON'T talk on and on – their attention span right now is very short.
DON'T share your views on religion or an after-life. Don't suggest "It is God's will," "They are in a better place," or "God needed them."  Even if you share a religious faith, their recent experience may have caused them to question theirs.
DON'T tell the bereaved that you are impressed by how well they are doing… or how strong they are. If you are speaking to them immediately after the death they are likely in shock and doing quite well. These comments will drive a griever nuts in the coming months. They are not likely showing how poorly they are doing in public, and they are putting on a good front for YOU. With child loss, parents would do anything to not be in a position to prove their emotional strength.
Next: Secular and Religious Services: Different faiths, cultures and perspectives
Subscribe to Blog