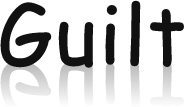 Do you have a list of things you "ought" to have said/not said or done/not done near the time of your loved one's death? Everyone feels inadequate when a loved one is dying, but some of us just can't seem to take ourselves off the hook.
"Ought" Implies "Can."
At least admit that your "ought" is a judgment, not a fact. Are you sure you are comfortable believing that you could have
acted perfectly,
known what you couldn't have likely known, and
controlled what you couldn't have likely controlled:

your loved one's life choices and thought processes,

the medical community, and
The fact is you can only do what is in your power to do.