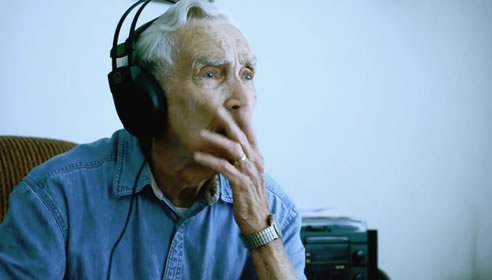 96-year old Fred Stobaugh writes a song to his deceased wife
Green Shoe Studio sponsored a songwriter contest asking people to submit videos of their original songs, promising to professionally produce the winner. Fred Stobaugh read the contest ad in his Peoria newspaper and decided to participate. Unable to send a video he mailed the lyrics of "Sweet Lorraine" to Jacob Colgan at the Green Shoe Studio.
When Jacob received Fred's entry he couldn't resist: he decided to put Fred's lyrics to music. The rest is history. Below is the link to Diane Sawyer announcing Fred had been chosen as the ABC News Person of the Week.
http://abcnews.go.com/WNT/video/96-year-widower-writes-song-late-wife-sweet-20124017
After "Sweet Lorraine" was produced Fred said, "The song really helps me. It really helps me. It just seems like she's just sort of with me. I know she's smiling, she's smiling down and she likes that song, I know."
View this Tribute of Love on YouTube:  https://www.youtube.com/watch?v=xN8B0gCpi3o