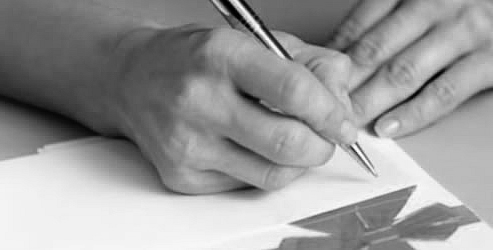 The other side of the coin: Talkinggrief.com recently posted What'sYourGrief.com's article about writing a holiday card to someone who is grieving. Today we approach the dilemma from the griever's point of view.
Carolyn Parr offers a simple outline and a very good reason why we should write others when we are struggling: "Your own truth-telling may free others to face their own situation with courage."
Grief taught me to write the perfect holiday letter
Carolyn Miller Parr
In October of 2015 the man who had been my husband for fifty-six years died. December found me still numb with grief. As my children and I struggled to navigate the season without a compass, we were feeling a lot of things. Joy wasn't one of them. If it was there, it was buried under a thick layer of pain.
It was time to write the annual holiday letter Jerry and I had always written together, but I felt lost. Should I just skip it and leave friends wondering whether they'd been abandoned? Should I spill tears all over the page? Should I put on a happy face to hide the pain?